Agricultural Solar PV Panels

rethinking energy
With the cost of electricity increasing year on year, many farms are looking to install solar panels in order to reduce their energy bills and maintain profitability.
With vast roofs and expanses of unused land, farms are ideal locations for large solar PV systems that can offset high daily electricity consumption and help protect your business against future rises in electricity costs. The huge uptake in solar panels within the agriculture sector speaks volumes and is a true testament to the reliability and strong returns offered.
Gilroys.ie provide a turnkey supply, installation and maintenance service for agricultural solar panels and offer a range of finance options.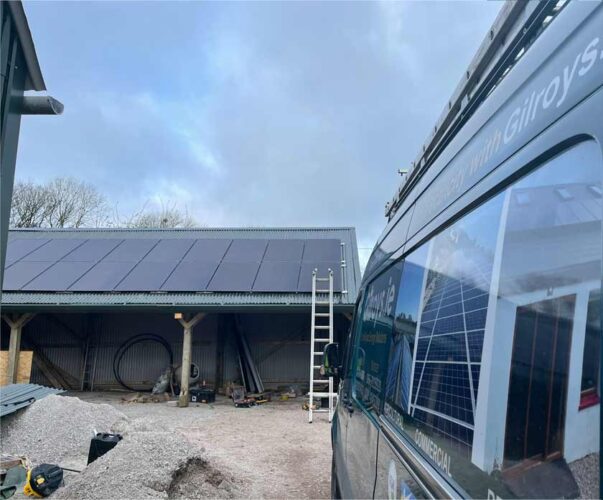 Factors that will impact how much energy a Solar PV system will generate are:
The efficiency of the panel.

The overall size of the PV array.

The latitude of the location.
Which direction the panels face.

The angle at which the panels are mounted.

The amount of shade that may cover the panels.
There are significant financial and environmental benefits for farms that invest and install solar panels.
Less than a decade ago, solar panels were considered a niche and experimental technology. Ten years on, solar has become the fastest growing energy source worldwide. Solar PV panels are now a mass-produced product, delivered at a cost-competitive price. In fact, whilst energy prices have increased year on year, the price of installing solar has plummeted.
A typical solar PV system will provide free electricity for more than 25 years, achieve returns of more than 12% per annum and pay back installation costs within 4 years.
Teagasc figures state that the average electricity consumption cost for the milking process per cow per week is €0.90. PV panels will greatly reduce this cost for you. Having PV reduces your carbon rating which helps increase your farm's rating.
"I'd put my money on the sun and solar energy what a source of power! I hope we don't have to wait until oil and coal run out before we tackle that".
Grants for Farmers
SEAI (Sustainable Energy Authority of Ireland)
The SEAI now have a grant available for generating renewable electricity using solar photovoltaic panels. The grant is €900 per kWp up to 2 kWp and €300 for every additional kWp up to a maximum of 4 kWp.
Example:
1kWp -> Grant Value = €900
2kWp -> Grant Value = €1800
3kWp -> Grant Value = €2100
4kWp -> Grant Value = €2400
TAMS (Targeted Agricultural Modernisation Scheme)
Eligible farmers can now get avail of grant aid of 40% for up to 11kw of solar PV and 6kw of battery storage. Young, qualified farmers can get up to 60% of grant aid on the same system. The grant is available for dairy, beef, tillage, and sheep farmers. Pig and Poultry farmers can also avail of TAMS grant aid of 40% up to 62kw under the "Pig and Poultry Investment Scheme".
The minimum amount of solar panel investment which is eligible for approval under this scheme is €2,000 and the maximum is €80,000.
Note: For both the Tams grant schemes, export to the national grid is not permitted and 100% of the generated power must be consumed on the farm. An 'On Farm Solar PV Survey' must be completed and submitted to demonstrate that all the electricity produced from the PV panels will be consumed on the farm.
ACA (Accelerated Capital Allowances Scheme)
Solar PV panels qualify for the ACA scheme as energy efficient equipment allowing companies write down the cost of such equipment in the year of purchase, rather than over the eight year period that is standard for plant and machinery capital allowances.
If you wish to find out more information related to solar grants or check your business's eligibility for availing of a grant please get in contact with us today.
Agricultural Solar PV install gallery