Solar PV Grant Information
ddowling
Another lovely day at our yard [...]

Solar PV Panels

rethinking energy
A Solar Photovoltaic (PV) Panel is made up of silicon cells, prepared in such a way that when the sun's rays pass over them they become 'agitated' creating an electric charge. This electricity is generated in the form of direct current (DC) generally the electricity is then converted to alternative current (AC) via an inverter to make it compatible with the electricity supply. Alternatively it can be stored as DC in a battery for use later.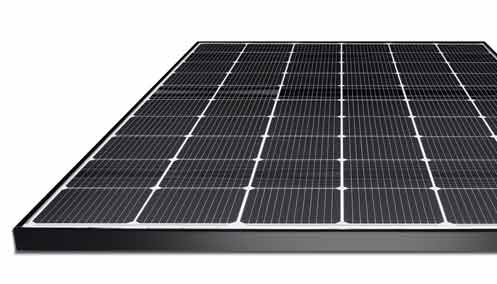 Factors that will impact how much energy a Solar PV system will generate are:
The efficiency of the panel.

The overall size of the PV array.

The latitude of the location.
Which direction the panels face.

The angle at which the panels are mounted.

The amount of shade that may cover the panels.
Contrary to popular belief, a Photovoltaic system does not necessarily need bright sunlight to operate successfully. A correctly engineered system will continue to generate electricity even on cloudy days.
The first practical application of solar photovoltaic's was to power orbiting satellites and other spacecraft, but today solar photovoltaic systems are becoming far more main-stream and can be used for any number of exciting applications. While traditionally most systems were grid-connected whereby excess electricity was fed onto the national grid, off-grid or hybrid systems are becoming more popular.
There are many reasons for this on the most basic level off-grid battery storage systems allow communities where there is no grid to have access to electricity. There has also been a trend in the developed world towards on-site storage. Electricity prices are increasing to such an extent that in many cases electricity generated by PV panels and stored on site is cheaper than the electricity that you can buy from the grid.
Many of the grids are in need of upgrading and therefore unable to deal with demand, as a result, we are facing the real threat of grid black-outs in the not too distant future.
"I'd put my money on the sun and solar energy what a source of power! I hope we don't have to wait until oil and coal run out before we tackle that".
Industry Sectors
We are a company which specialises in Green Energy (Renewable) PV Solar Panels in grid or stand alone, Thermodynamic Solar Panels Systems, Heat Pumps, Stoves, Boilers, Under Floor Heating etc.
Some common Solar PV Questions
How long does the full process take with Gilroys.ie?
From the initial survey and if you are comfortable with Gilroys.ie proposal, we can have your new solar Photovoltaic (PV) system fitted within 4-6 weeks. Once agreed, we will enter into a contract (requirement for the SEAI grant) and commit to delivering the works to the highest standard. When the project is completed, which in most cases is within one working day we can submit all the necessary paperwork onto the SEAI, Safe Electric & ESB Networks. The SEAI will check and verify all projects and in some cases send an official inspector out to the property to carry out a detailed inspection of the works. Once satisfied and all paperwork is in order then the payment is approved. Early indications from the SEAI are that verification process and approval of payments will take approximately 6 weeks.
How much of a grant am I entitled too with a Gilroys.ie PV system?
The size of the system installed on your property and if a battery is fitted will determine how much you can claim. There is a grant of €700 for every kilowatt power (KWp) of solar installed on your property up to a maximum of 4kWp. Any system installed over 2kWp must install a battery. There is a grant of €1000 for the battery. The battery must be 2KWh or higher to qualify.
To get the maximum €3,800 allowance in the grant you have to install 4kWp solar panels with 2kWh plus battery.

What guarantee do I have that my system will perform for years after you have installed it?
Solar P.V is like LED Lighting, once installed correctly by Gilroys.ie it will perform according to the manufacturer's performance warranty. There is however superior products on the market that will outperform others over their lifespan. As a consumer, it is vital that you do not make your decision based on the lowest price received from other suppliers. Price is important but when it comes to Solar P.V, the performance and quality of the panel is more important as the panels must perform over their 20 year design life.
Where are your panels manufactured?
Our panels are manufactured by a TIER 1 listed manufacturer Qcell / Sharp. Produce millions of solar P.V panels every year and distribute world-wide.
Do you offer finance for the entire project?
Yes, we can offer finance through our finance partner AIB Bank. AIB can offer finance over 2-10 year term from €1,000 – €50,000 with interest as low as 2.75% subject to T & Cs. You can get a quote direct through the AIB Bank on their green loans.
Do you offer the SEAI Grant Discounted at the beginning of the installation?
Yes, we can offer the SEAI grant discounted when the project is complete. This would mean that you do not have to wait for over 6 weeks for the grant money to come through. It is also re-assurance that the installation would be done to the highest standard so that we Gilroys.ie will be paid the grant approximately 6 weeks after the installation is complete. A declaration is required between both parties stating that Gilroy's Green Energy Ltd bank details are input on the grant payment claim. This can be done on the day of installation with the commissioning engineer.
After the installation is complete, do I require any training on how to use the system?
Essentially no. The system pretty much is self sufficient once installed. However the following documents are required to be handed over to the home owner once the project is complete and paid for.
Datasheets for Solar PV Modules, Inverters, and Battery Energy Storage System
Warranties for Solar PV Modules, Inverters, Mounting System
O&M Manual for Homeowner. Basic start up, shut down, safety, operation and maintenance instructions
Estimation of system performance calculated using common estimator tools and databases such as PV Syst, PV Sol, PVGIS or other equivalent, considering the actual location, orientation, pitch, location and over shading conditions of the PV modules.
The commissioning engineer on the day will give a run through the system and be available to answer any of your questions.