Save Money

while helping the Environment
Thermodynamic Solar Panel: (Collector) Which can be mounted on a sloped or flat roof, a vertical wall or at ground level.  It is preferentially mounted on a south facing altitude, but this is not essential.
Thermodynamic Solar Block: This includes the compressor, liquid reservoir, expansion valve and heat exchange.  This is all located with in a couple of meters of the cylinder.
Water Cylinder: We can use your existing cylinder if it is highly insulated stainless steel cylinder, if not we can supply and install a new one.
Small Diameter Gas Pipes: Copper piping between block and panel Installed by gilroys.ie trained engineer during installation.
Water Pipes: Connecting to the tank from mains supply of gravity feed supply and connecting to the main hot water out-flow connection are made to the heat exchange.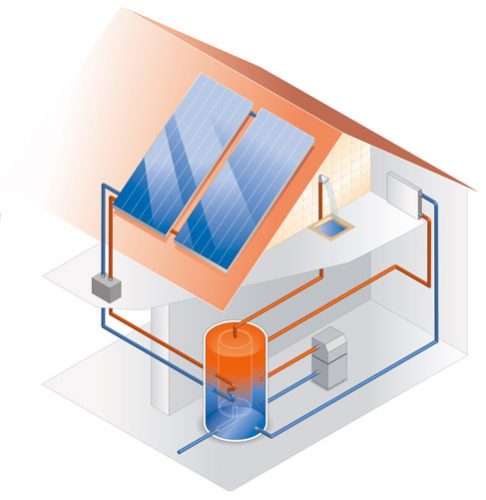 Save Money And lower your C02 carbon footprint
SAVE UP TO 80%
With the only electrical power consumption being a small compressor motor (equivalent to that on a domestic fridge), the system can save up to 80% of your water heating costs. This means that the capital investment can be recouped in a short period. The system incorporates an environmentally friendly safe clean gas. It is non-combustible so there are no Co2 emissions or smells of any kind.
A RELIABLE AND WORRY FREE SYSTEM
With thousands of systems already installed throughout Ireland and virtually no maintenance required, the system has proven itself as a reliable and extremely cost-effective alternative to conventional water heating methods.
Thermodynamic Solar Panels gallery