Provides even heat distribution

for the greatest thermal comfort
Underfloor Heating Specialists
To get the very best for our customers we at Gilroy's green energy ltd, that's why we only choose the best under floor system to suite your installation. With over 25 years experience your works will be in safe hands with Gilroy's.
The Gilroy's green energy ltd system has been designed to be as quick and easy as possible to install with component parts manufactured under an ISO9001 Quality management system. The system has water pumped from a boiler / stove or other heat source to a pump pack where it is mixed to approximately 50°C then distributed via a manifold to heating circuits made using barrier pipe. The pipe is laid in concrete or suspended floors just below the surface or timber flooring. A wide range of electrical components means the system can have as much or as little control as required.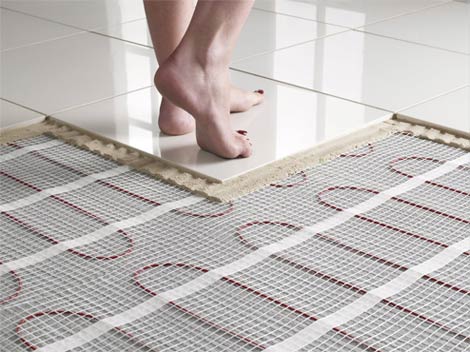 Underfloor heating benefits:
Solar Energy for Commercial Projects.

Solar Energy for Cooling.
Solar Energy working with Underfloor Heating.

Solar Energy working with Heatpumps.

Solar Energy working with Solid Fuel Stoves.
Gilroys.ie wet/dry underfloor heating
Find out the difference between warm water and electric underfloor heating (UFH), how UFH can affect your energy bills, what type of flooring you should lay over it and much, much more.
What are the different types of underfloor heating?
There are two main systems – water, which runs through pipes as part of your regular heating system on an air to water heat pump(s) or oil / gas boiler, or electric.
Warm water: buried
Traditional buried warm-water systems involve burying 1.6cm pipes into the floor screed. The screed is then finished in your selected covering and the zoned system controlled by a manifold, usually located in a store cupboard. This method means the whole floor slab becomes the heat emitter and ensures long-burn heat production.
Pros: Most energy-efficient way of delivering UFH. Low running costs.
Cons: Requires a complete overhaul of the existing floor structure and so best suited to extensions or new builds.
Warm water: surface mounted
luckily, the options for renovators who don't want to dig out their floor structures have improved significantly in recent years. Companies such as Nu Heat and Polypipe have developed insulated panels with channels routed out for 1.2cm pipes to sit in, which can be laid on top of the existing floor structure. The panels add as little as 1.5cm to the floor height and use warm water in the same way as the buried systems.
Pros: Easy-to-fit low-profile system.
Cons: Relatively expensive and adding this system to certain rooms on a storey will cause level changes between the rooms. 
Electric
If you don't want to raise the floor levels in your existing rooms, an electric system is the only answer. Popular for single-rooms, electric systems operate with matting on to which cables connect into the home's electrical circuit. It is operated as any heating system would be, by thermostats. Electric UFH mats are slim and can be laid within tile adhesive, making them very popular for bathrooms. 
Pros: Easy to retrofit. Ideal for individual rooms. Cheap to install.
Cons: Relatively high running costs compared to water systems. 
Compared to a radiator-only heating system, UFH is estimated to be 25 per cent more efficient when paired with a modern condensing boiler, and up to 40 per cent cheaper when combined with a heat pump. 
Is underfloor heating the best choice for your home?
It's mainly effective for large open-plan spaces – particularly those with high ceilings – as the entire floor radiates heat upwards, so you benefit from warm feet and even room temperatures. This radiant heat also means reduced draughts, moisture levels and airborne allergens.
a gilroys.ie typically underfloor heating is more than enough as a stand-alone form of heating. However, its capabilities will often be dictated by other factors, such as floor coverings and a building's insulation levels (especially walls and windows). This is why gilroys.ie heat-loss calculations are so fundamental, as having looked at a building's individual thermal performance they will tell you how much heat you need to generate.
For example, a poorly insulated room with lots of glazing may not heat fully when it is cold outside (which means additional insulation or supplementary heating may be necessary). Floor coverings also play an essential role. Typically, stone and tiles are excellent options, as carpet with suitable tog ratings. If you're keen on timber, however, remember it has a lower temperature tolerance.
Underfloor heating gallery